---
Thank you - תודה רבה
for attending the Red Hat Forum Israel, 2017!
All presentations from the Forum are available under the download section.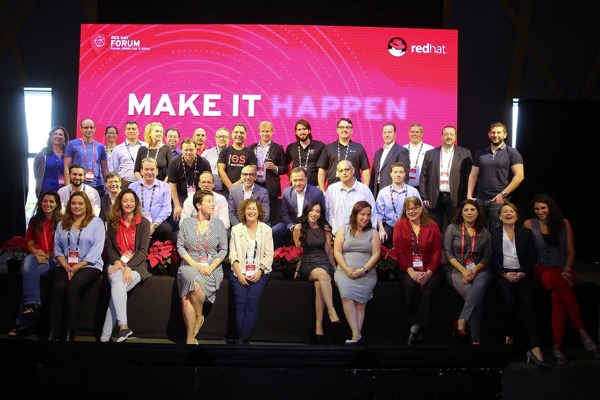 View all photos from the event by visiting our Forum photo album.
---
אנשים ומחשבים People & Computers interviews at Red Hat Forum Israel 2017
Presentations to download
Click the title of the presentation you would like to download in the agenda below.
08:00
Breakfast, registration, exhibition + Raffle Games
09:00
Welcoming & Opening
Dan Toledano, Country Manager, Israel Greece & Cyprus at Red Hat
09:15
Keynote I: Your Future is built on what you do Today: How you can prepare your organization for market disruption?
Werner Knoblich, Senior Vice President & General Manager at Red Hat EMEA
09:45
Keynote II: Disruptive Technologies that will change the IT World: Blockchain & IoT Vision
Galit Fein, Vice President & Senior Analyst at STKI
10:15

Keynote III: Customers on Stage: What does Digital transformation means for you?

Ofer Ben-Artzy, Open Infrastructure Manager, Tel-Aviv Stock Exchange
Ori Troyna, VP Application Security domanin lead at Citi Innovation Lab
Riki Oren Arad, Head of Supply Chain, Mavenir
Asaf Ashkenazi, Founder & Owner, Bravo.ai

MC: Dan Toledano

11:00
Brunch & exhibition + Raffle Games
11:30 - 14:00
Technical Breakout Sessions - OPEN CHOICE:
Track I: Innovate with Red Hat's embedded solutions
Topics: IoT, OpenStack, NFV, SDN, Software Defined Storage, Virtualization
MC: Gil Rosenberg, Red Hat
Track II: Application Platforms & Integration
Topics: OpenShift, JBoss, IoT, Mobile, Containers
MC: Amir Zipory, Red Hat
Track III: DevOps with Red Hat
Topics: Developer Tools, API Managment, OpenShift.io, JBoss Developer Suite, Open Innovation Labs
MC: Yaakov Preiger, Red Hat
Track IV: Hybrid Cloud Architecture
Topics: Managment Tools, Automation with Ansible, Cloud Suite, Public & Private Cloud
MC: Asaf Hirshberg, Red Hat
Session I
11:30
Red Hat's vision on Infrastructure as a Service
Nikolai Stankau, Director Business Development Telco EMEA at Red Hat
Red Hat Application & Middleware Portfolio
Morten Rohlfes, Director Sales EMEA for JBoss & OpenShift at Red Hat
Red Hat vision: from development to production
Yossi Koren, Sr. Solution Architect at Red Hat
Red Hat's Management & Open Hybrid Cloud portfolio
Yarden Levy, Red Hat Solution Architect at Matrix
Session II
12:00

Cloudification of services at Comm Service Provider
Oren Benisty, Director New Services, Comm Service Providers at Intel

Application Modernization with Container ready Middleware
Eran Mansour, Senior JBoss consultant at Matrix
OpenShift with HPE
Jacob Shaaltiel, Business Developer at HPE PointNext Israel
Google Container engine, Kubernetes and hybrid clouds
Yaniv Weinberg, Sales Engineer at Google Cloud Platform
Session III
12:30
Contrail network & security in Red Hat's OpenStack & OpenShift era
Eli Koshrovsky, Senior Systems Engineer & Golan Regev, Manager, Regional Sales at Juniper
Red Hat CNS - Container Native Storage
Taco Scargo, Senior Solution Architect at Red Hat
Live Demo: CI/CD Pipelines with Jenkins on Red Hat's OpenShift
Iftach Schonbaum, Chief Architect, CloudZone
Open Hybrid Cloud Solutions by Microsoft & Red Hat
Adir Ron, Open Source Lead at Microsoft
Session IV
13:00
The Red Hat telco ecosystem delivered on NFV & OpenStack
Timo Jokiaho, Head of EMEA Telco Technology Office at Red Hat
Container Managment with Red Hat
Loic Avenel, Senior Product Manager at Red Hat
Security with OpenShift
Kirsten Newcomer, Security Strategist & William Henry, Open Source, DevOps, and Cloud Strategist at Red Hat
Unified Management Platform for Hybrid Cloud Environment
Grisha Sokolovsky, VP Business Development at TeraSky
Session V
13:30

A Beginner's Guide to Carrier Grade Services in the Cloud
Ohad Shamir, CloudBand Product Manager at Nokia

API Managment with Red Hat 3scale on OpenShift
Yossi Koren, Sr. Solution Architect at Red Hat
Red Hat OpenShift Application Runtimes (RHOAR)
Morten Rohlfes, Director Sales EMEA for JBoss & OpenShift at Red Hat
RHEL OPEX Reduction Using Red Hat Satellite in TLV Stock Exchange
Yossi Goltz, Solution Architect at E&M Computing
14:00
Lucky Raffle Draw
14:15
LUNCH
Sponsors of Red Hat Forum Israel 2017
EXECUTIVE EVENT SPONSOR
---
Red Hat and Intel provide the most innovative and secure enterprise-level solutions that increase IT agility and innovation to deliver a competitive advantage through IT services, including: Advanced software-defined infrastructure solutions that help enterprises improve efficiency, secure data, and deliver better business results. Industry-standard platforms to improve datacenter agility and flexibility and position IT organizations and lines of business to support demands of the future.
PREMIER SPONSOR
---
מטריקס מוצרי תוכנה הנה מפיצת רד האט בישראל החל משנת 2004 ומהווה את מרכז התמיכה הרשמי ללקוחות רד האט בישראל. מטריקס מוצרי תכנה מייצגת בישראל חברות תוכנה בינלאומיות מובילות מזה 20 שנה, כמו גם פתרונות ישראליים מבטיחים ומספקת שירותי שיווק, ניהול מוצר, יישום ותמיכה מלאה לפתרונות אלו.
Google Cloud Platform ו- Red Hat משתפות פעולה כדי לסייע ללקוחותינו לשלב משאבי ושירותי ענן ציבורי. ביחד, אנא רותמים את העוצמה של קונטיינרים עבור הארגון דרך פרויקט Kubernetes, והיצירה של ה- Cloud Native Computing Foundation. בכך, אנו יכולים לעזור לכם ליהנות מיתרונות החדשנות, האג'יליות והעלות של מודל ענן native תוך מינימום חיכוכים. Google עובדת צמוד עם Red Hat לאינטגרציית ואספקת Red Hat OpenShift Dedicated on GCP, כמו גם להרחבת ניהול ענן ציבורי דרך Red Hat CloudForms.
PLATINUM SPONSOR
---
מיקרוסופט ו-Red Hat פועלות תחת הסכם שיתוף פעולה אטסרטגי שמטרתו לסייע ללקוחות לאמץ את מחשוב הענן ההיברדי במסגרת Microsoft Azure. במסגרת השת"פ, מיקרוסופט מציעה את Red Hat Enterprise Linux במגוון תצורות גמישות ותחת הסכם התמיכה המקיף ביותר בענן. בנוסף, מהנסדי מיקרוסופט ו-Red Hat עובדים בשיתוף פעולה הדוק בכדי לספק מענה מתקדם לבנייה, פריסה וניהול של יישומי Red Hat בקרב לקוחות האנטרפרייז, ה-ISV והמפתחים.
חברת HPE מספקת פתרונות מחשוב היברידיים מאובטחים, הנותנים מענה לדור הבא של סביבות העבודה שהינן מוגדרות תוכנה (Software Defined). אנחנו ב- HPE נותנים מענה לצרכים העסקיים החדשים של לקוחותינו, באמצעות טרנספורמציה טכנולוגית ופתרונות המשלבים תוכנה ,חומרה ושירותים חדשניים. כל זאת תוך התמקדות בחדשנות ובתחומים החדשים. Red Hat ו- HPE פועלות יחדיו כדי לספק את הפתרון המתאים למחזור החיים הטכנולוגי של ארגונך. התשתיות המוצקות של פתרונות אלה, מבוססות על טכנולוגיה סטנדרטית, פתוחה, חסכונית שאינה מתפשרת על מדדים כמו אבטחה, ביצועים או יכולת שדרוג. בכך אנחנו מאפשרים ללקוח לבחור את פתרונותיו ומונעים Vendor Lock-in. שיתוף הפעולה של Red Hat ו- HPE מציג יותר מ- 8,000 פתרונות מאושרים המייצרים סביבת ידע בוגרת ורחבה.
GOLD SPONSORS
---
חברת TeraSky הרכיבה צוות ייחודי של מומחים בעלי הסמכות ייחודיות. לצוות ניסיון של מעל 30 שנה בתשתית IT . בעידן בו הפתרונות הינם בעיקר מבוססי תוכנה ( Software Defined ), הניסיון העצום של חברת TeraSky מאפשר לבנות פתרונות מתוחכמים המשלבים את העולם החדש עם העולם המסורתי בתשתיות. חברת TeraSky הינה חברת תשתיות הממוקדת בפתרונות: Software Defined Storage and DC, Backup & Recovery, Advanced Storage Solution, Virtualization, Cloud and Automation
אמת מיחשוב הינה חברת אינטגרציה וספקית מובילה של תשתיות מיחשוב. במהלך 30 שנות פעילותה מספקת אמת מיחשוב ללקוחותיה פתרונות כוללים החל משלב הייעוץ והאפיון, דרך שלב התכנון המפורט, שלב המימוש וההטמעה, ועד להדרכה, אבטחת מידע, ניהול שליטה ובקרה ותמיכה טכנית שוטפת המבוססים על ניסיון אנושי מצטבר איכותי.
Juniper and Red Hat are mutual technology alliance partners. Together we have validated and certified several product integrations to improve the ease with which you can deploy and operate cloud solutions, from IaaS to PaaS to NFV. Juniper has joined the Red Hat OpenShift Commons and Hub communities, and has earned the Red Hat OpenShift Primed technical readiness designation.
SILVER SPONSORS
---
מרכז התמחות Integration & SOA מוביל נושאים טכנולוגיים בעולם Integration Middleware ו- SOA. אנו משקיעים בשילוב של פתרונות Open Source לעולם ה-Middleware בכלל, ושילוב פתרונות של חברת Red Hat בפרט. אנחנו מייצגים, כשותפים ברמת Partner Premier, את משפחת מוצרי Red Hat JBoss ותשתיות הענן by Red Hat OpenShift.
Nokia Networks and Red Hat, have extended their collaboration to enable mobile operators to create a more efficient and flexible telco cloud infrastructure. The agreement bundles Nokia Networks' carrier-grade virtualized core applications and cloud application management products with Red Hat Enterprise Linux OpenStack Platform. This collaboration enables efficient operation of the Nokia virtualized core network functions and management systems on top of Red Hat's OpenStack technology.
Reduxio is redefining data management and protection with the world's first unified primary and secondary storage platform. Based on the patented TimeOS storage operating system, Reduxio provides breakthrough storage efficiency and performance, and the unique ability to recover data to any second, far exceeding anything available on the market today.
The Power of the Individual - Driving innovation in your digital world
Red Hat Forum in Israel is the number one premier conference for open innovation technologies. The event brings together senior executives, IT decision makers, customers, partners, developers to discuss cloud innovation, DevOps and Containers.
Join us on the day to learn from leading Iocal customers as they share success stories of their digital journeys.
Other highlights include:
Keynotes & technical breakout sessions
Network with peers
Discuss open source projects
Meet with technical experts & innovators
Discover fundamental advances in cloud computing
See what happend at the Red Hat Forum Israel 2016.
Our speakers of the Red Hat Forum Israel 2017
---
Werner Knoblich
Senior Vice President and General Manager EMEA, Red Hat
Werner Knoblich is responsible for developing and executing Red Hat's business strategy across Europe, Middle East, and Africa (EMEA). His primary focus is on sales, marketing, and services. Since joining Red Hat in 2003, Werner has led the EMEA region to consistently exceed financial targets and deliver innovative solutions to overcome customer business challenges in both established and emerging markets.
Prior to joining Red Hat, Werner spent more than 6 years working in the IT asset management sector for MainControl and MRO in the United States. Werner began his sales career working for USU Softwarehaus in Germany.
---
Dan Toledano
Country Manager, Israel Greece & Cyprus, Red Hat
Dan Toledano joined Red Hat in 2013 as Country Manager of the Israel, Greece and Cyprus (IGC) region. In his role he is leading the sales activities within the region and in charge of establishing strong business relationships with strategic partners. Since he joined, Dan managed to grow the business significantly and establish Red Hat as a leading player within the market.
---
Franz Meyer
Vice President, Strategic Business Development, EMEA, Red Hat
Franz Meyer joined Red Hat in 2001 and is based in the Paris office. For the first 12 years of his career at Red Hat, Franz held responsibility for the development of Red Hat's business opportunities in Western and Southern Europe, Middle East and Africa. He now leads a strategic initiative to accelerate new business opportunities and the adoption of new products in Red Hat's portfolio (Middleware, Virtualization & Cloud, Storage) across the EMEA region.
---
Matt Hicks, Senior Engineering Executive | Expertise in Cloud Computing, DevOps, PaaS Solutions, and Cloud-based Development, Red Hat
Matt Hicks is one of the founding members of the Red Hat OpenShift team. He has spent over a decade in software engineering with a variety of roles in development, operations, architecture and management. His real expertise is in bridging the gap between developing code and actually running it in production. An expert in IT and cloud-based architectures, he spends his time these days evolving OpenShift to harness the power of cloud and make developers more productive.
---
Gianni Anguilletti
Regional Director ITI, Red Hat
Gianni Anguilletti has several years' experience in strategic sales, marketing and people management.
He currently covers the role of Red Hat Regional Director for Italy, Israel, Turkey and Greece; in this position he is responsible for the implementation of corporate strategies at local level overseeing an organization that meets the needs of more than 1,000 local customers.
Gianni joined Red Hat in 2006, after a few successful sales and managerial experiences at Business Objects, Think3 Incorporated and PTC, where he has held the roles of Sales Manager, Sales Director and Vice-President of Sales Operations respectively and where he has always obtained significant business results by setting up highly productive organizations and establishing strong business and technological partnership with prestigious customers and partners.
Before joining PTC he has taken part to several projects for the delivery and implementation of CAX and Industrial Automation systems, in Italy as well as in other countries.
Date: 14.11.2017

Time: 08:00 - 15:00

Location: Lago Events
6, HaMea VeEsrim Street
Rishon LeTsiyon, Israel
If you have any questions please send us an email.